Where to start.....
Soccer is going great. I can't believe how much our team has improved. Sounds silly when talking about 5 year olds but they are doing awesome. I have alot of fun coaching them. Oh, and I found out one of the kids on our team, his dad was my 11th grade Math teacher Mr. Bowen. Crazy to be coaching my high school math teacher's son.

I'm sad the warm summer nights are ending but I'm loving the cool crisp mornings. We've had so much fun spending our nights in the backyard. Eating dinner outside, playing on the slide, trampoline and bikes, I'm going to miss it when the snow comes. Although I won't miss the constant baths from the boys playing in the dirt. Ashton's always covered from head to toe.
The Saturday of Labor Day weekend we went to Hogle Zoo. There were alot of baby animals. I thought the baby giraffe was cute. I think the best part for Kaleb and Ashton was the train ride. The driver was going fast! I didn't know that little train could go that fast.
After the zoo we went to RCWilley and this is where the boys hung out. The adjustable bed that gave you a massage. Kaleb thought it was pretty cool.
About a month ago we had a ward party and they had a slip-n-slide down the hill for the kids. Later a fire truck came and the kids thought it was the coolest thing. I couldn't believe how far the water shot out. This isn't even half of the distance. The field was more like a lake when they left.
My friends Chris and Amber just had their baby boy Conner (he's so cute!) and I appliqued a couple of onsies for him. We were going to do it at her shower but didn't have time. In addition to the rocket and octopus I made a tie one but I didn't get a picture. I used the patterns from
THI
S
blog. I've seen alot of people prefer the 'straight' stitch instead of the 'zig-zag' stitch so I tried it on the octopus. I'm NOT a fan of the straight stitch. I thought it was harder to sew and it doesn't look as finished to me.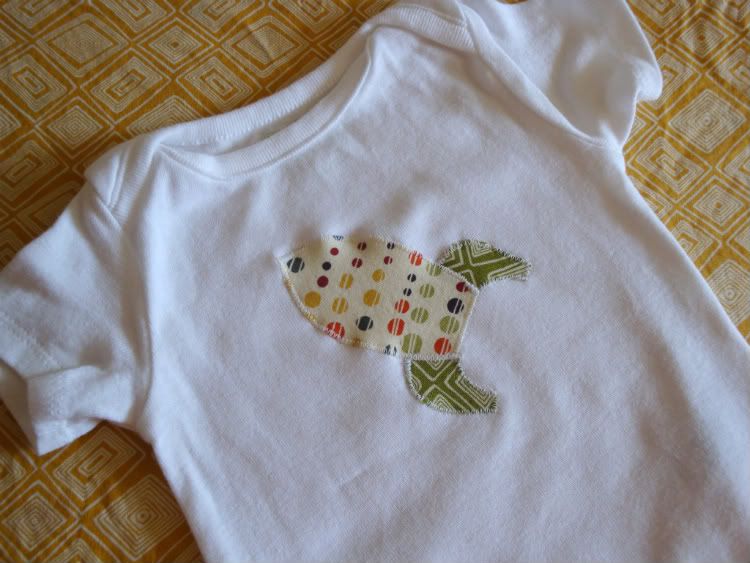 Saturday (with the help of my parents) we took out all of the bushes in our backyard (except 1). I think there were somewhere around 25-30 bushes total. Oh, and 1 tree. The only tree we had was growing between our fence and the church's fence so it had to be taken down before it ruined the fence. We've planted a couple of fruit trees and we're going to get raspberry, blackberry and grape starts from my dad and plant them along the fence.